Dr. Bhavin Vadodariya
Consultant – Head and Neck Surgical Oncologist

Years of Experience: 3 years

Types of Cancers Treated: Head & Neck cancer, Oral cancer, Thyroid cancer, Laryngeal cancer, Skull base Cancer

Number of Cases Handled: 200

Educational Background: MBBS MS (General Surgery) DrNB Surgical Oncology

Expertise: Dr. Bhavin is a young Surgical Oncologist, and his expertise lies in oral cancer surgeries, thyroid, parathyroid, salivary glands surgeries as well as Transoral laser surgeries.

Speciality:Head and Neck Surgery Surgical Oncology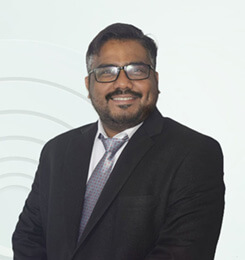 Training and Certifications:
Dr. Bhavin has received advanced training in Head & Neck surgery and Flap harvest and Microvascular surgery at Amrita Institute of Medical Sciences, Kochi in 2019.
Dr. Bhavin has received Observership in Surgical Oncology in Indo American cancer Institute, Hyderabad in February 2020.
Dr. Bhavin has received MBBS and MS General Surgery from Medical College and The MS university of Baroda in 2015
Dr. Bhavin has received DrNB Superspeciality degree in Surgical Oncology from Apollo Hospital, Ahmedabad through NBE institute of Medical sciences, New Delhi in 2020 with distinction
Recognition:
Dr. Bhavin has received Best Paper Award at NATCON IASO 2018- Annual Conference of Indian Association of Surgical Oncology at Tiruvananthapuram
Dr. Bhavin has presented scientific papers in various Surgical Oncology conferences.
Publications:
Palonosetron and Granisetron for the Prevention of Postoperative Nausea and Vomiting after Laparoscopic Cholecystectomy: A Prospective Comparative Randomised Active Controlled Trial, Journal of Medical Science and Research, in April 2017.
Comparative randomized controlled clinical trial of diathermy versus scalpel incision in midline laparotomy, International Surgery Journal, in December 2018
Clinico -Sonological and pathological evaluation of extratesticular scrotal lesion, International Journal of Surgical Sciences, in April 2020.
Audit of pediatric trauma in a secondary care urban public hospital, Journal of emergency practice &Trauma, in November 2020.
A Rare case of maxillary brown tumor presenting as parathyroid carcinoma, International Journal of Scientific Research, in October 2021.