Dr. Aditya Joshipura has an expertise in the surgical treatment of benign and malignant tumors in the head and neck area, including tumors of the oral cavity, pharynx, (throat), larynx, (voice box), thyroid, parathyroid, and salivary glands.
He joined Aastha Oncology Associates in January 2018
He completed his MS(General Surgery) from NHL Municipal College, Ahmedabad in 2013. He received his super-specialty training from The Gujarat Cancer Research Institute, Ahmedabad and completed his MCh(Surgical Oncology) in 2016 from BJ Medical College, Ahmedabad.
He practiced as an Assistant Professor in the department of Head and Neck Surgical Oncology in GCRI Ahmedabad for 18 months and pursued active interest in the exclusive management of Head and Neck Cancer Management.
He has received advanced training in Head and Neck Surgical Oncology from Memorial Sloan Kettering Cancer Centre, New York, USA.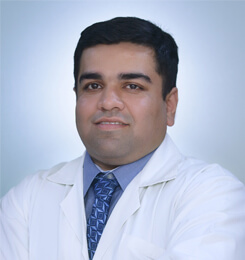 M.S., M.Ch(Surgical Oncology) – Dept of Head and Neck Surgery.
He has been involved with the functioning of the endocrine surgery unit, with special focus on thyroid, parathyroid and parotid malignancy management.
He is an active participant of the Head and Neck Disease Management Team at HCG Cancer Centre, Ahmedabad. This multidisciplinary team of specialists includes head and neck surgeons, radiation oncologists, medical oncologists, radiologists, maxillofacial prosthodontists, as well as plastic and reconstructive surgeons. This team is essential in developing new treatment algorithms with the use of latest evidence-based knowledge, helping to individualise treatment for patients.
Dr. Joshipura is also involved in training the next generation of Head and Neck Cancer Surgeons. He contributed to the learning of Head Neck Surgeons during his time as Assistant Professor in GCRI. He is one of the supporting members for training DNB Residents and Fellows of Head & Neck Surgical Oncology Fellowship Program at HCG Cancer Centre. This program draws talented young head and neck surgeons from all over the world who travel to HCG Cancer Centre to learn the latest surgical techniques for the treatment of head and neck cancer.
He is an active member of Indian Association of Surgical Oncology, Foundation of Head and Neck Oncology(India).
Clinical Expertise:
 Head and Neck Surgery for Tumors of the Mouth; Pharynx (Throat); Larynx (Voice Box); Thyroid Gland; Parathyroid Gland; Parotid and Other Salivary Glands; Soft Tissue Tumors; Bone Tumors; Tumors of the Dentoalveolar Structures.
Special interests: 
Thyroid surgery, parathyroid and parotid malignancies.
Languages Spoken: 
English, Gujarati, Hindi
Education:
MBBS : Smt NHL Municipal Medical College, Ahmedabad
MS : Sheth V S Hospital and NHL Medical College, Ahmedabad
MCh: The Gujarat Cancer & Research Institute, Ahmedabad and BJ Medical College, Ahmedabad