What are the indications of HIPEC?
HIPEC may be a life-prolonging, even life-saving, treatment for some patients. Unfortunately, not all patients with peritoneal cancer may experience positive results from a HIPEC procedure. Many factors should be considered for each individual patient. Some of these factors are outlined below.
Origin of the peritoneal cancer
There is now good scientific and clinical evidence to support treatment with HIPEC in select patients with mesothelioma, pseudomyxoma peritonei and patients with peritoneal cancer derived from a colorectal tumor.
A beneficial effect from HIPEC is expected for patients with peritoneal cancer of a gastric or ovarian origin, but this approach is still under investigation and treatment of these patients with HIPEC should ideally be performed in clinical studies. Treating patients with peritoneal cancer of other origins, such as pancreatic cancer or high-grade sarcoma with HIPEC is currently not supported by sufficient scientific evidence.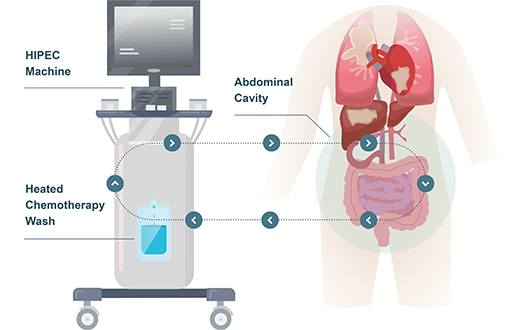 Extent of the disease
The peritoneal cancer index (PCI) is used to assess the extent of peritoneal cancer throughout the peritoneal cavity. In general, PCI is correlated with the prognosis after HIPEC. Higher PCI values are typically associated with a worse prognosis. This approach has resulted in the definition of a maximum acceptable PCI for some diseases, such as colorectal cancer. Above a certain threshold, the benefit of the procedure in terms of survival does not outweigh the risks and HIPEC is not performed in these patients. The maximum PCI in colorectal cancer patients may vary among institutes. Different rules concerning the PCI apply to low-grade malignancies, such as PMP. In these patients, long-term survival or even a cure may be obtained with a very high PCI. In these patients, the ability to clear the abdomen of tumor nodules is more important for prognosis than the initial PCI.
Clinical condition
A HIPEC procedure is considered to be an invasive, lengthy and complex procedure. Patients must be in good clinical condition to endure this treatment with good results and a chance for full recovery. Some hospitals apply an upper age limit for this treatment (e.g., 65 or 70 years). However, several studies have shown that "physiological age" is more important than "calendar age" and various hospitals have now proven that a HIPEC procedure can be performed safely in fit and otherwise healthy patients over 70 years old.
Cancer outside the abdomen
The HIPEC procedure should be considered as a regional treatment for the abdominal cavity. Therefore, cancer that has spread to organs outside the abdominal cavity (e.g., to the lungs, brain or bones) is usually not considered to be a suitable target for a HIPEC procedure. An exemption may be made for the presence of only a few (three or less) treatable liver metastases from colorectal cancer. Various studies have shown that treating such liver metastases with a combination of HIPEC and systemic chemotherapy for limited peritoneal cancer is feasible and safe. Additionally, this approach has resulted in prolonged survival compared with treatment with chemotherapy alone.
In addition to the above-mentioned factors, many other factors may need to be considered for an individual patient, and these factors may influence the advice concerning the best possible medical treatment. Furthermore, indications to proceed with a HIPEC procedure may vary between countries, and even hospitals within a country, depending on local expertise. Ideally, a patient with peritoneal cancer should be counseled by a multidisciplinary team of experts with specific knowledge on peritoneal cancer to define the optimal treatment strategy. The strategy may include HIPEC in select patients.