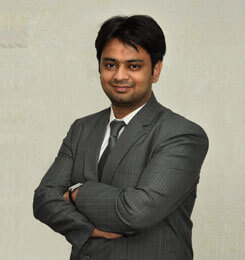 G.I. Hepatobiliary Services
Dr. Devendra G Parikh, M.S., M.Ch. (Surgical Oncology) is a Consultant Cancer Surgeon in the department of GI and Thoracic surgery at HCG Cancer Centre, Ahmedabad.
Education :
M.B.B.S., M. P. Shah medical college, Jamnagar
M.S. General Surgery, Govt. medical college, Baroda
M.Ch Surgical Oncology, Gujarat Cancer & Research Institute(GCRI), Ahmedabad
Fellowship:
Esophageal Cancer Surgery at National Cancer Centre, Tokyo, Japan in 2017 (Dr Yuji Tachimori) and in 2019 (Dr Daiko).
Minimal Invasive Foregut Surgery at UPMC, Pittsburgh in 2018 (Dr James Luketich)
He has special interest in esophageal cancer surgery. He pursued his keen interest during his training and afterwards. He is a strong proponent of Minimal invasive approach in cancer surgery. He is a board certified Robotic Surgeon for Da Vinci Xi Surgical System by Intuitive Surgical Inc., for which he had taken training at Sunnyvale, California. He is amongst the few surgeons in India who believe and perform 3 field LN dissection for esophageal cancer.
For his work in "Minimal invasive esophagectomy in locally advanced esophageal cancer" he was awarded travelling fellowship by JSCO (Japanese Society of Clinical Oncology). He has many publications in various Journals and has many paper and poster presentation at various National & International Conferences to his credit.