Dr.Dhanushya Gohil, M.S., D.N.B., (Plastic&Microvascular Reconstructive Surgery) is a Consultant –OncoReconstructive Department at AASTHA ONCOLOGY ASSOCIATE at HCG cancer center Ahmedabad,Gujrat. He has special experience in microvascular reconstruction,super microsurgery and post cancer reconstructive surgeries.
Dr.Dhanushya has strong belief in TEAM (Together Everyone Achieves More) and been joinedAasthaOncologyAssociate team in May 2017 as active team member.
He has received his specialty training from Ganga MedicalCenter, Coimbatore, Tamil Nadu and pursue degree of DNB (Plastic & Reconstructive Surgery) in 2017. During this period, he went for training in microvascular Onco-reconstructive surgeries in Tata Memorial Hospital, Mumbai and AmruthaMedical Science Center, Kochi, Kerala. He completed his M.B.B.S. and M.S. (General Surgery) in 2009.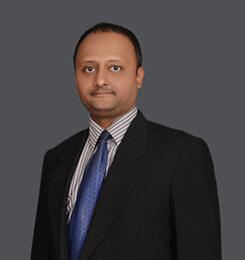 Plastic & Micro Vascular Services
He has been involved and take interest with functioning of post cancer Onco-reconstructive surgical unit with special focus on reconstruction of post cancer ablation defect with expert to do free microvascular flaps.
He is an active participant of post cancer reconstructive management team at HCG Cancer Center Ahmedabad. This multidisciplinary team of specialty include eminent surgical oncologist, Radiation oncology, Medical oncology, Radiologist,Maxillofacial prosthodontists. This team is essential in developing new algorithmwith use of latest evidence-based knowledge helping to individual treatment for patients.So as Dr. Dhanushya strongly belief in TEAM
He is involve in training the next generation of reconstructive surgeons. He is one of the supporting member for training of DNB and Fellows of fellowship program at HCG cancer center, Ahmedabad, Gujarat.
Dr. Dhanushyaparticipatedin many reconstructive conferences and presented papers as a faculty at conferences held nationally and internationally, include one at Italy WSRM 2019and represented on behalf of AASTHA Team
He is active members of local and national bodies like AMA, GPSA (GUJARAT), ASI, APSI, and IASO (NATIONAL).
CLINICAL EXPERTIES:
Post cancer (Head & Neck Cancers and Breast cancers ) reconstructive microvascular surgeries like Free Fibula Flap, Free A.L.T. Flap, Free Radial Forearm Flap, Free DIEP Flap, Free MSAP Flap and many more with also pedicleflaps (P.M.M.C. Flap, L.D. Flap, LICAP flap) and local flaps.
CONVERSANT IN: – English, Guajarati, and Hindi, Tamil
Education:
MBBS: P.D.U. Medical college, Rajkot.
M.S. (General Surgery): M.P. Shah Medical College, Jamnagar
D.N.B. Plastic &Reconstructive Surgery: Ganga Medical Centre, Coimbatore, T.N.
Microvascular training:
Ganga Medical Centre, Coimbatore, T.N
Tata Memorialhospital, Mumbai
Amrutha Medical Centre, Cochin, Kerala