Dr. Dushyant Mandlik has special expertise in the surgical treatment of benign and malignant tumors in the head and neck area, including tumors of the mouth, pharynx, (throat), larynx, (voice box), sinuses, thyroid, parathyroid, and salivary glands. He is also expert in post cancer reconstructive surgeries.
He joined Aastha Oncology Associates in 2006 and further specialised in Head Neck, Robotic & Reconstructive Surgery.
He received his speciality training from Department of Head and Neck Services, Amrita Institute of Medical Sciences, Kochi, Kerala and Institute of head and neck and thyroid cancers, at Mount Sinai hospital, New York. He received his Robotic Surgery training from Severance Hospital, Seoul, Korea.
He is also a leading member of the Head and Neck Disease Management Team at HCG Cancer Centre, Ahmedabad. This multidisciplinary team of specialists includes head and neck surgeons, radiation oncologists, medical oncologists, radiologists, maxillofacial prosthodontists, as well as plastic and reconstructive surgeons. This team is essential in developing new treatment algorithms with the use of latest evidence-based knowledge, helping to individualise treatment for patients.
Dr. Dushyant Mandlik - M.B., M.S. Head and Neck, Robotic & Reconstructive Services
Dr. Mandlik's special interests are in the oral cavity surgery and reconstructive surgeries following head and neck cancer surgeries, which is essential not only for cosmesis but also for functional rehabilitation of patients. He has developed innovative resection and reconstruction procedures, such as Temporoplasty. Dr. Mandlik is also involved in training the next generation of head and neck cancer surgeons. He is coordinator of Head & Neck Surgical Oncology Fellowship Program at HCG Cancer Centre. This program draws talented young head and neck surgeons from all over the world who travel to HCG Cancer Centre to learn the latest surgical techniques for the treatment of head and neck cancer.
Dr. Mandlik has contributed several research papers in peer reviewed Journals. He is reviewer to many national and international journals also. He has lectured extensively, both nationally and internationally. He is an active member of Association of Surgeons of India, Association of Plastic Surgeons of India and Foundation of Head and Neck Oncology, India.
Clinical Expertise:
Head and Neck Surgery for Tumors of the Mouth; Pharynx (Throat); Larynx (Voice Box); Esophagus; Thyroid Gland; Parathyroid Gland; Parotid and Other Salivary Glands; Soft Tissue Tumors; Bone Tumors; Tumors of the Dentoalveolar Structures, Nasal Cavity and Sinuses, Nerves and Blood Vessels of the Neck; Skin Cancers; Melanoma
Languages Spoken:
English, Gujarati, Hindi
Education
MBBS : B J Medical College, Ahmedabad, INDIA, MS : Sheth V S Hospital and NHL Medical College, Ahmedabad. Awarded UICC fellowship for a project on Head and Neck reconstruction, 2014. Fellow : Global Online Fellowship for head and neck oncology, by IFHNOS (international Federation of head and neck oncology societies) batch 2014-16
Visit PubMed for acholary articles of Dr Dushyant Mandlik
(https://pubmed.ncbi.nlm.nih.gov/?term=dushyant+mandlik+%2C+mandlik+D )
Linked in:
https://in.linkedin.com/in/dushyant-mandlik-a23b0822
Other web links:
https://timesofindia.indiatimes.com/city/ahmedabad/Gujarat-cancer-experts-perform-worlds-first-cement-based-reconstructive-surgery/articleshow/49068511.cms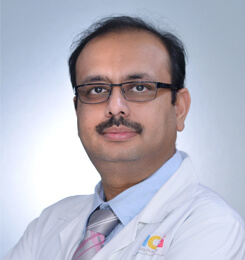 Dr. Dushyant Mandlik - M.B., M.S.
Head and Neck, Robotic & Reconstructive Services