Dr. Hemang Bakshi is the Head of Department of Urooncology and Robotic surgery at HCG cancer centre,Ahmedabad. He is the one and only Urooncologist in Gujarat – and one of the very few in the country-to exclusively practise Urooncology.
He is a leading national expert in robotic,laparoscopic and open surgeries for genitourinary cancers-mainly dealing with radical prostatectomy for prostate cancer,radical cystectomy for bladder cancer,partial or radical nephrectomy for kidney cancer and lymphnode dissections for testicular or penile cancers-since more than 20 years. He is a pioneer in the surgery of radical prostatectomy in Gujarat,having done more than 500 open and more than 150 robotic radical prostatectomies. He has more than 550+ robotic uro oncology surgeries to his credit.
He is one of the few urologists from India to be awarded the prestigious Societe Internationale d' Urologie scholarship for training in Urooncology in the USA.
He has been in private practice as a Consultant Urooncologist since 21 years and has also been a Visiting Urooncologist at the Gujarat Cancer and Research Institute-a public sector tertiary care cancer institute-for 17 years,where he was responsible for teaching M.Ch. students.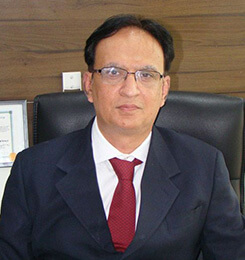 Chief Uro-Oncologist & Robotic surgeon
He is a proctor for Intuitive Surgical, training surgeons in robotic surgeries. He has organised national workshops on prostate and bladder cancer and is the author of many articles on the subject.
He is the President of Ahmedabad Urology Association.
Speciality
Uro-oncology

Robotic & Laparoscopic Surgeon
---
Education
Master of surgery (1990)
M.Ch. (urology) (1994)
---
Experience25 years in Uro-Oncology