Dr. Jagdish M. Kothari M.S., M.Ch. (Surgical Oncology) is a Senior Consultant – GI & Hepatobiliary Services at HCG Cancer Centre, Ahmedabad & the founder member of Aastha Oncology Associates. After completing M.B.B.S and M.S (General Surgery) from B. J. Medical College in 1988 he further continued his training in field of Surgical Oncology from Gujarat Cancer & Research Institute leading to M.Ch. Thereafter he went for advanced training in GI & Hepatobiliary Oncology at Memorial Sloan Kettering Cancer Centre (MSKCC), New York, USA in 1993. He is also a visiting fellow at Johns Hopkins Institute, Baltimore and MSKCC, New York, USA. He has been awarded famous Internal Cancer Research Technology Transfer (ICRETT) fellowship by International Union Against Cancer (UICC) Geneva, Switzerland.
He specializes in GI & Hepatobiliary Surgeries like Sphincter Preserving Rectal Surgery, D2 Gastrectomy, Hepatectomy and Major Pancreatic Resection.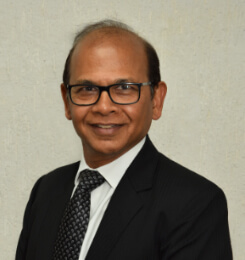 Hepatobiliary and Colorectal Services
He has won may Best presentation & Best paper awards at various National & International Conferences. He has been invited as Faculty, Speaker and Panelist in national and international conferences. He is active member of Association of Fellows of UICC, Geneva, Switzerland, Indian Society of Oncology, Association of Colon and Rectal Surgeons of India, Association of Surgeons of India and Indian Medical Council.