Gynecologic Oncologist in Gujarat
Dr. Kalpana Kothari MD, (Gynecologic Oncologist in Gujarat) is a Senior Gynecological Cancer Specialist at HCG, Cancer Centre, Ahmedabad & member of Aastha Oncology Associates. After completing M.B.B.S and M.D (Obst. & Gynae & Neonatology) from B. J. Medical College in 1988 she went for advanced training in Vulvar Colpscopy and Surgeries for Vulvar Malignancies at Royal Hospital for Women, Sydney – Australia. She also visited Hammersmith Hospital, UK for special training on colposcopy & latest management of pre invasive & invasive cervical lesions.
She specializes in early detection and prevention of cervical cancers with Conservative Management of the same. She has conducted more than 50 camps in the rural areas of Gujarat in connection with Gujarat Cancer Research Institute which is a premier oncology institute of Gujarat. She is also involved in practice of preventive oncology for cervical cancer and regularly performing PAP Test and Colposcopy at V.S. Hospital to screen a large population.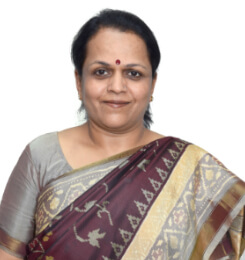 Gynecological Oncology Services
Gynecological Cancer Surgeon Doctor in Ahmedabad
She regularly takes lectures in various local organization for promotion of prevention and early detection of cervical and breast cancer. She has won may Best presentation & Best paper awards at various National & International Conferences. She has been invited as Faculty, Speaker and Panelist in national and international conferences. She is active member of Indian Society of Obstetrics & Gynaecology, Association of Gynaecologists of India and Life member of Gynaecological Oncology Association of India.