Dr. Kaustubh Patel M.S., M.Ch. (Surgical Oncology) is a Director & Senior Consultant – Head & Neck Surgical Oncologist at HCG Cancer Centre, Ahmedabad & the founder member of Aastha Oncology Associates. After completing M.B.B.S. from B.J.Medical College, he did MS & MCh from Gujarat Cancer & Research Institute (GCRI) with highest marks in Gujarat University. Thereafter he underwent advanced training in Head & Neck Oncology under ISHNO ( Indian Society of Head & Neck Oncology) Fellowship at Memorial Sloan Kettering Cancer Center (MSKCC), New York, U.S.A. He was Assistant Professor & Incharge – Head & Neck Specialty Clinic at GCRI before initiating Aastha Oncology Associates. He has also been trained at Free University Hospital, Amsterdam, The Netherlands, University of Brescia & University of Pisa, Italy & University of Pennsylvania (Robotic Head & Neck Surgery), USA.
He has introduced popularized many new surgical techniques in state of Gujarat including Microvascular, Minimal Invasive H&N Surgery (MAARSH), Trans Oral Endoscopic Laser Surgery (TOLS) & Trans Oral Robotic Surgery (TORS).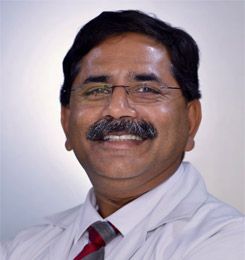 Head and Neck & Robotic Services
He has won many Best presentation & Best paper awards at conferences including UICC. He has publications in Peer Reviewed National & International Journals and is regularly invited to National & International Conferences as Operating Surgeon for Live Surgical Workshops, Speaker as well as panelist for symposias. He is Founder Secretory of G-SHNO (Gujarat Society of Head & Neck Oncology) and is President of FHNO (Foundation of Head & Neck Oncology of India) which is a National Society of Head & Neck Cancer Specialists.