M.B,M.S, FGOLF (IFHNOS, MSKCC, USA)
HEAD and NECK ONCOSURGEON and SKULL BASE SURGEON
HCG CANCER CENTRE, AHMEDABAD, GUJARAT,INDIA,
CONDITIONS TREATED, ORAL CANCER, SKULL BASE TUMOUR, THYROID CANCER, PARATHYROID TUMOUR, LARYNGEAL TUMOUR, SALIVARY GLAND TUMOUR, SKIN CANCER
Dr. Parin Patel is consultant at AASTHA oncology Associates, surgical team at HCG CANCER CENTRE, AHMEDABAD, GUJARAT.
HE IS PART OF MULTIDISICIPLINARY TEAM FOR MANAGEMENT OF HEAD AND NECK TUMOURS WHETHER IT IS BENIGN OR MALIGNANT. HIS SPECIAL INTEREST IS SKULL BASE SURGERY , SPECIALLY ENDOSCOPIC AND COMPARTMENTAL INFRATEMPORAL FOSSA SURGERY. HAS PERFORMED VARIOUS HEAD AND NECK CANCER SURGERY FOR ORAL CANCER (TONGUE, LOWER JAW, UPPER JAW , CHEEK, TONSILS ), THYROID, PARATHYROID ,SALIVARY GLAND WITH AIM OF ACHIEVING OF GOOD QUALITY OF LIFE FOR PATIENTS AFTER SURGERY.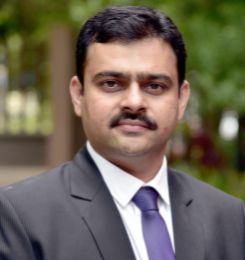 Head & Neck Services & Skull Base Surgeon
APART FROM THIS PERFORMED VARIOUS LARYNGEAL SURGERY FOR VOICE BOX CANCER WITH GOOD VOICE RESOTORATION AFTER REMOVAL OF VOICE BOX.
HE HAS BEEN ACTIVE IN TRAINING FELLOWS AT HCC. AHMEDABAD, NOT ONLY IN SURGICAL TECHNIQUE BUT ALSO EVIDENCE BASE APPROACH TOWARDS HEAD AND NECK CANCER
CONVERSANT IN:- ENGLISH, GUJARATI, AND HINDI
EDUCATION:-
M.B.B.S – M.P. SHAH MEDICAL COLLEGE JAMNAGAR,GUJARAT
MS (OTORHINOLARYNGOLOGY) – MP SHAH MEDICAL COLLEGE AND GG HOSPITAL, JAMNAGAR, GUJARAT
HEAD AND NECK FELLOWSHIP – RAJKOT CANCER SOCIETY HOSPITAL (NPCI)
LOCATION:– 204, FIRST FLOOR, OPD TOWER, HCG CANCER CENTRE, NEAR SOLA BRIDGE, SG HIGHWAY,AHMEDABAD
Phone : 079 40410620 / 079 40410520
Email : parin9p2002@gmail.com