Dr. Purvi Patel is a surgeon who has particular expertise in the multidisciplinary treatment of tumors located in the head and neck area. She has special expertise in surgical treatment of benign and malignant tumours of mouth, throat (Pharynx), voice box (larynx), thyroid, parathyroid, salivary glands, sinuses and skin cancer of head neck area. She is also expert in speech and swallowing rehabilitation.
She has received her specialty training from Head & Neck Services of Memorial Sloan Kettering Cancer Centre, New York and Department of Surgical Oncology, Gujarat Cancer & Research Institute, Ahmedabad. She is a fellow of International Federation of Head & Neck Oncology (IFHNOS). She has also received trainings from Tata Memorial Hospital, Mumbai and Amrita Institute of Medical Sciences, Kochi, Kerala.
At Aastha Oncology Associates and HCG Cancer Centre, Ahmedabad, she is an integral member of a team of professionals that strives to provide patients with top-quality cancer care, while also placing an emphasis on maintaining or enhancing quality of life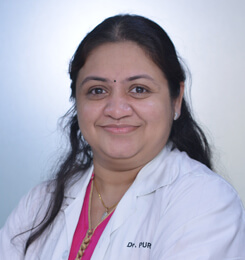 Clinical Expertise: Head and Neck Surgery for Tumors of the Mouth; Pharynx (Throat); Larynx (Voice Box); Thyroid Gland; Parathyroid Gland; Parotid and Other Salivary Glands; Soft Tissue Tumors; Bone Tumors; Tumors of the Dentoalveolar Structures, Nasal Cavity and Sinuses, Nerves and Blood Vessels of the Neck; Skin Cancers;
Languages Spoken: English, Gujarati, Hindi, Marwari
Education: MBBS : Bhavnagar Medical College, Gujarat,
MS (ENT & Head Neck Surgery): Medical College Baroda, Gujarat
Fellowships:Fellowship in Clinical Research, Head & Neck Services, MSKCC, New York
Fellowship in Surgical Oncology at Gujarat Cancer Research Institute, Ahmedabad
Global Online Fellowship for head and neck oncology, by IFHNOS (international Federation of head and neck oncology societies) 2014-16.
Visit PubMed for scholary articles of Dr Purvi Patel (https://www.ncbi.nlm.nih.gov/pubmed/?term=Patel+Purvi+D)
(https://www.ncbi.nlm.nih.gov/pubmed/?term=Patel%20P%5BAuthor%5D&cauthor=true&cauthor_uid=26266199 )
Pubmed is an online index of biomedical articles maintained by the U.S. National Library of Medicine and the National Institutes of Health.