Dr. Tanay N. Shah is a surgical oncologist. He did his MBBS during the period of 2003-2008 from goverment medical college, Baroda which is affiliated to prestigious M.S. university of Baroda.He completed his internship at Civil hospital, BJMC at Ahmedabad.
After that he pursued M.S. in general surgery again at Govt. medical college and SSG hospital Baroda from 2009-2012.
He has worked as a senior resident in general surgery in Sola civil hospital, Ahmedabad in 2012.
He has worked as an assistant professor in Surgery department of Civil hospital Ahmedabad from 2013-2015. There he has had experience of numerous and various oncological and GI surgical procedures. He has been an eminent lecturer also.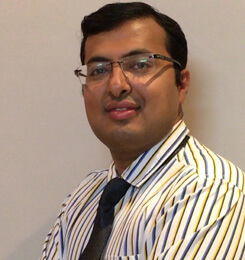 After this, he went to Bhagwan Mahaveer cancer hospital and research center at Jaipur for his training in DNB surgical oncology from 2015-2018. There he has had a tremendous exposure of working with Jaipur's leading oncosurgeons and he has independently done many breast, head and neck, gynaec and GI oncological surgeries. Apart from that he has mastered the art of endoscopy including UGI scopy, colonoscopy, Fiberoptic laryngoscopy and bronchoscopy and has had vast experience of independently performing the same.

He has participated in many oncology conferences and CMEs and did a few poster and paper presentations including one at prestigious ICC – Bangalore-2017